Voucher Bundles are kinds of "Extras"--one of the other things you might have in addition to tickets, passes, or memberships. If you purchase or receive a whole bundle or individual vouchers, this is how you use these valuable items.
What is a "voucher"
A voucher is a 14-digit code you can use online or at the box office in exchange for something else--like a ticket or a pass. They are easy to share--whomever has the code can use it--but be cautious; once the code is used once it can never be used again. By anyone.
What can I get in exchange for my vouchers?
Just about anything. This is determined by the organization or event that provided the voucher bundle. Each voucher can only be used for one specific item--a specific kind of ticket, pass, ticket package, membership, or item from the concessions stand.
Locating your Extras
If you purchased or checked out any complimentary Extras online, in your order confirmation email you will see a 'Get Codes' link beneath your listed Extras.



Click 'Get Codes', which will take you to Your Extras page in your Elevent account.
Alternatively, or if you were gifted any Extras by an organization and didn't receive an order confirmation email, you can also retrieve these directly within your Elevent account by signing in at https://www.goelevent.com/SignIn and going to Account>Your Extras
You'll then see your Extras listed here, showing how many are available still or have already been redeemed. You'll also see a View Codes button. In the example below, this customer has already applied 3 of the 10 General Admission tickets they have but hasn't yet redeemed the 2 All Access Passes they have codes for.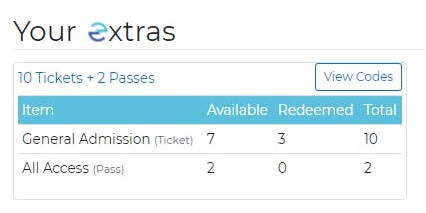 To view or even export your voucher codes, click the View Codes button and a pop-up window will appear revealing the 14-digit code for each voucher. It will also show which codes are still available for use and which have already been redeemed.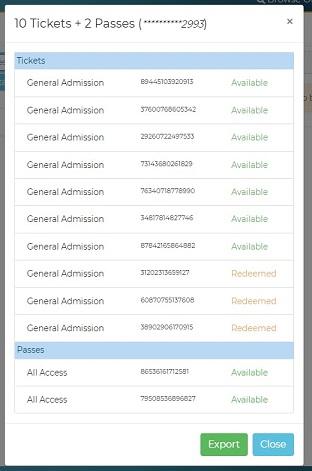 The Export button will download your codes into an Excel file for easy management.
Applying Your Extras Online
Regardless if you yourself are using your Extra Voucher Code(s) or if you decide to gift them to someone else, the redemption process is simple.
1. Log into your account
You can do this either on the festival or organization's website, if that's where you purchased your Extras, or else by logging in directly to your Elevent account directly, at https://www.goelevent.com/SignIn
If you've gifted the voucher code to a friend, you can send them to https://www.goelevent.com/SignIn where they'll be prompted to register an Elevent account if they don't already have one.
2. Add items to your cart
Search the organization's site or via https://www.goelevent.com and add any eligible items, which your Voucher Codes are good for. This might be an event ticket or a pass.
3.Check out using your Extra Code
If you're looking to apply Voucher Codes associated with your account, then after adding eligible items to your cart and advancing to the Checkout page, you may see the following message:

By clicking Redeem Now, you'll be taken to Your Extras page where you can quickly apply your Voucher Codes and checkout without payment. See this video demonstration: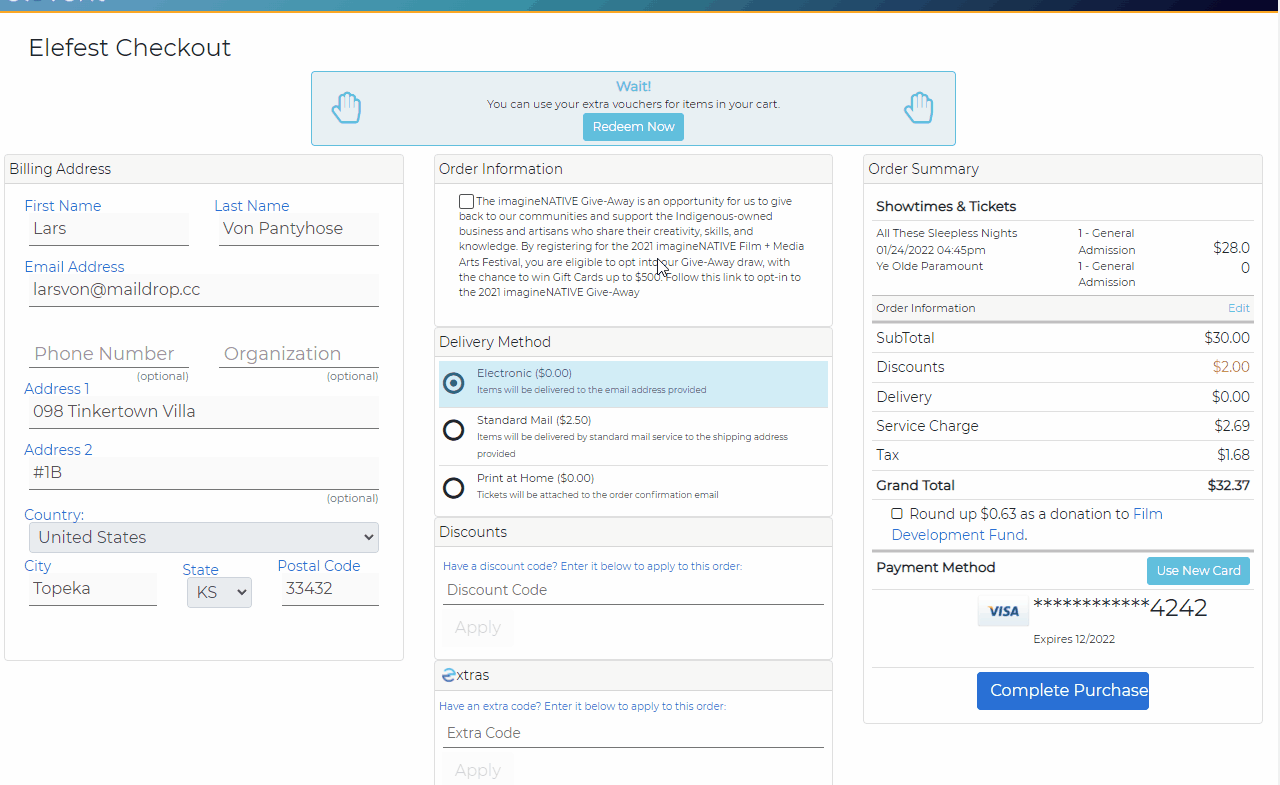 Alternatively, or if you've shared your Voucher Codes with someone else, then they can easily paste or type in their unique 14-digit code where it says 'Extra Code' on the Checkout page, and then click Apply.

To apply multiple Voucher Codes in this way, just enter in a new code where it says Extra Code>Apply and repeat.
After the application of your Vouchers Code(s), you'll see the discounted amount reflected in the Order Summary section of the Checkout page.

Then click Complete Purchase and you'll receive an order confirmation email with the item(s) you checked out.
Applying Your Extras In-Person
At the Box Office, simply let the Box Office attendant know you have an Extra Voucher Code you'd like to apply to your order. If the Voucher Code is already associated with your account, they'll be able to apply this for you - you won't need to provide the voucher code numbers. If you've been given a Voucher Code by a friend, provide the Box Office attendant with the 14-digit codes you've been gifted.